Double barbed wire machine:
This machine is mainly suitable for various strands of barbed wire, the material should be conform to the requirements of the GE/T343-94 standard "general use hot dip galvanized low carbon steel wire, the product is widely used in defense, railway, highway, agriculture animal husbandry and other industries.
CS- A type barbed wire machine concludes of two parts, wire coiling and wire twisting, and matches with four wire de-coilers, the machine parts work coordination, movements smooth, flexible and reliable operation, and adopts advanced electronic counting control, is currently the only domestic production of barbed wire equipment. The machine production of the specifications of the barbed wire range are shown in table one.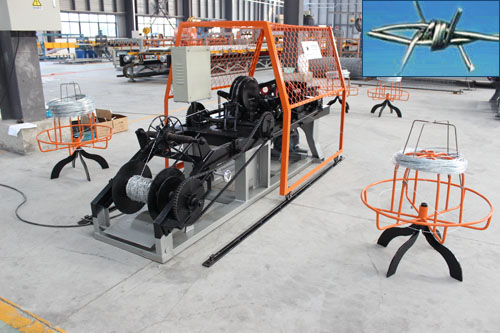 | | | | |
| --- | --- | --- | --- |
| No | Project | Unit | Parameter |
| 1 | Motor | type | Y100L2-4 |
| 2 | Motor | KW | 3 |
| 3 | Main shaft speed | Turn/min | 402 |
| 4 | Barbed wire speed | Turn/min | 470 |
| 5 | Wire pulling speed | Turn/min | 134 |
| 6 | Wire take-up rotational speed | Turn/min | 30-255 |
| 7 | Main frame | mm | 1900×1300×980 |
| 8 | Wire take-up and twisting part | mm | 1800×750×750 |
Barbed wire specification:
| | | | |
| --- | --- | --- | --- |
| No | Project | Unit | Parameter |
| 1 | Barbed wire spacing | mm | 70, 102 |
| 2 | Braided wire diameter | mm | 2.2-2.8 |
| 3 | Barbed wire diameter | mm | 1.8-2.2 |
Finished products: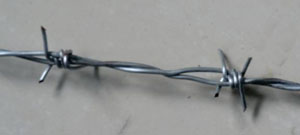 Our Wire Mesh Machine Products Catalog:
Our Wire Mesh Products Catalog: